Portable Weighbridge
Portable weighbridges are a boon to Mining, Quarries and Construction industry, who need to shift the weigh bridge from site to site.
Conventional weigh bridges has huge platform weights and large civil foundation costs. This makes moving the weighbridge from one location to another very expensive, as bigger trucks are required to transport them and expensive civil work has to be condemned at the old site and re-built at the new site. The time taken for dismantling and re-commissioning conventional weigh bridges, is enormous , and hence adds to the cost of shifting , tremendously.
STATWEIGH INDIA, one of the India's most successful weighing manufacturer has developed Portable weighbridge (Movable Weighbridge), which overcomes all the above disadvantages, and hence enables quick shifting, at a very low cost.
STATWEIGH INDIA Movable weigh bridge is constructed entirely of steel, and is lighter and easier to shift. The civil foundation required , is very minimal, and can be done in about 2 days time. The weigh bridge itself can be installed in a few HOURS.
The system is a TWIN platform design, mounted on a series of load cells. The load cells are specially made to maintain the platform profile , as low as possible. The load cells are connected together in a fully molded junction box, which also houses the surge protection circuit, to protect the weigh bridge from lightening and other electrical surges.
The output of the load cells are processed by the renowned DH340A9 digitizer.
Our WINDOWS based WEIGHMASTER software is a very user friendly module. It can give all MIS data like vehicle number, commodity, party name , Gross weight, Tare weight, Net weight etc. It also gives summary information which can be selected by the operator, like vehicle wise, date wise, material wise, party wise etc..
The system is highly secure, with a combination of hardware lock and password . Also , every operator logs in with his user name and password. This enables easy tracking of operators.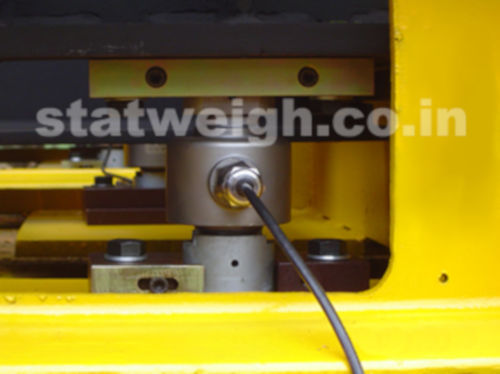 The highlights of STATWEIGH INDIA'S portable weigh bridge
Overall height less than 12 inches
Self contained construction
Heavy duty checkered deck plate
Minimal installation cost
Modular in construction, so easy to transport.
Salient Features
The only weighbridge with SIGMA-DELTA converter based digitizer, the best available technology in the world today.
Load cells are ladder-trimmed to the last Micro-Volt, ensuring high level of performance and steady calibration.
Load cell protected to IP-68, which means, water and dust has no influence on performance.
Load cells field tested and proven for more than two decades.
In-Built lightning protection.
High-level of security provided and hence totally tamper – proof.
Steel used is from SAIL/ JINDAL only, which assures high platform quality.
Installation and support handled y the finest technical crew available.
Over 1400 installations.
Requires the lowest or no maintenance. Our clients will vouch by this.
For more information about Portable Weighbridges Contact us